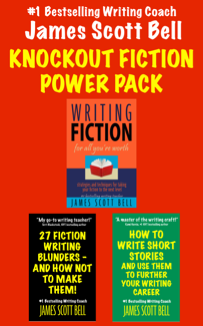 Three #1 bestselling writing books bundled together for the first time!
A complete course on writing fiction that sells, and how to live a successful writing life. These powerhouse books are packed with the tools, techniques and secrets that will take you to the next level of your writing journey. And beyond.

WRITING FICTION FOR ALL YOU'RE WORTH is a treasure trove of James Scott Bell's teaching, a virtual MFA in commercial fiction.
Added Bonus: Interviews with some of the top writers working today includingJeffery Deaver, Tess Gerritsen, Brad Thor, and David Baldacci.

27 FICTION WRITING BLUNDERS-AND HOW NOT TO MAKE THEM exposes the most common and avoidable mistakes found in fiction manuscripts. Simply by eliminating these errors you will raise the quality and desirability of your books.

HOW TO WRITE SHORT STORIES AND USE THEM TO FURTHER YOUR WRITING CAREER gives you the essential ingredient for a successful short story, no matter the genre. The book shows how any writer—whether planner or "pantser"—can use this key to unlock infinite story possibilities. And turn readers into fans.
KINDLE
I
NOOK
I
KOBO